Safe Service
DO I NEED A SAFE?
Can you keep a secret?
If you can't, don't get a safe. If someone knows you have a safe they will think you have something worth stealing.
Never tell anyone NOT EVEN FRIENDS AND FAMILY that you own a safe!
If you own jewelry, if you keep cash in your home or if you have important documents, then yes you need a safe.
Valuables must be kept secure behind several layers of security. The lock on your front door is the first security measure a would-be thief will likely encounter. Ensure that it is installed correctly and is functioning. A second layer could be a burglar alarm system that lets you know when your first layer has been compromised.
The final layer should be a safe. Safes are designed to be very difficult to open. A thief who has broken into your private space, then sets off your alarm will not have the time to attempt to open a safe.
Smaller safes should always be bolted down by a professional.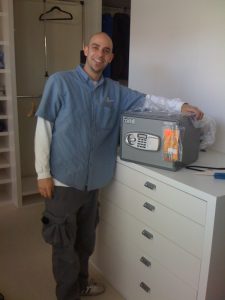 Safes protect valuables from a variety of conditions including burglary, fire and flood.
Before pricing out a safe make sure you know what your needs are.
RATING OF SAFES
A-rated = Affordable
B-rated = burglary resistant (Rated by UL)
F-rated = fire resistant (Rated by UL)
C-rated = combination fire and burglary resistant
D-rated = diversion safe
Talk to our locksmith to determine which type of safe is right for you.