Keyport Slide
Visit our store to buy the Keyport Slide and we will help you fill it with your house keys, office keys, car keys, motorcycle keys, memory key, bottle opener, flash light…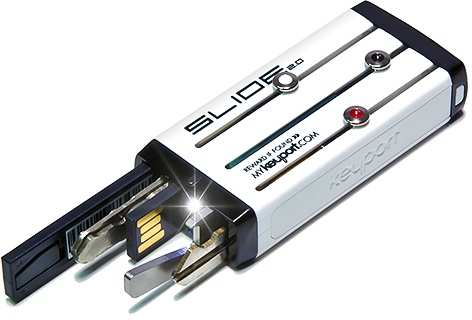 To give the Keyport Slide as a gift, borrow your friends keychain and bring it into the store.  We will copy the keys over to blades that are compatible with the Keyport Slide.
Keys are the easiest way to open a lock.  A small bit of metal that lets you into your home, your office and your car. How could that get complicated?  Have you seen your keyring?
Take your keys out of your pocket and name each key. Front door, back door, side door, padlock… the list goes on. The first step is to get One Special Key from Spadina Security.  One key to open your every lock every day.  Step two is to get your keys on a Keyport.
Now that you have fewer keys you can fill your Keyport with a flashlight, a USB key and other useful blades.
We cut the Keyport blades in our store.  Walk in with a key ring and walk out with your Keyport.  Some speciality keys will have to be special ordered.  Most common blades are kept in stock, including the Mul-T-Lock keys.
Visit our store to see the Keyport in action.  No more searching for the right key or fumbling in the dark.  Grab, slide, unlock.  The keychain perfected.