3-in-1 by Mul-T-Lock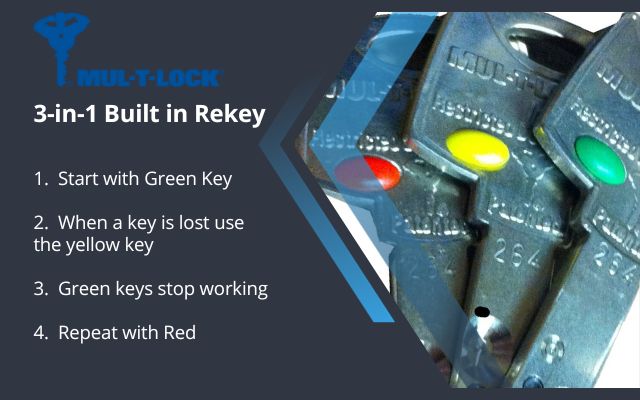 The cylinder is built to allow a change of combinations by the insertion and operation of the next key in a sequence of 3 keys. Introduction of each new key invalidates the previous key combination. When all 3 combinations have been used, the cylinder may be reset by a Spadina Security Locksmith. The product is available with the 3 keys colour coded or the keys can be made when required by the user.
First you use the green set of keys. Whenever the combination needs to be changed (rekey) simply start using the yellow key. The green key will automatically be cancelled. Once again you may change the combination by applying the same process with the red key. The yellow key, as well as the green, will be automatically locked out.
The 3-in-1 Lock from Mul-T-Lock
A Simple Idea Enabling the User to Change Lock Combinations
TO START YOUR 3-IN-1 LOCK:
The lock is installed by our Professional Locksmith.
Use the GREEN key.
WHEN YOU NEED TO CHANGE THE LOCK:
Insert the YELLOW key and operate the lock.
The green key is now disabled.
Use the YELLOW key.
IF YOU NEED TO CHANGE THE LOCK AGAIN:
Insert the RED key and operate the lock. Now the yellow key is also disabled.
Use the RED key.
Need to Change Your Lock Again?
Call SSI for Details.