What Does A Locksmith Do
Everyone knows that a locksmith installs locks and makes keys.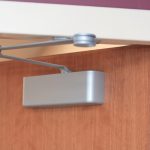 What else can a locksmith do for you?
Door Hardware
There are many machines that go into your door system:  Hinges, Door Closer, Panic Bar, Door Knob, Deadbolt, Door Viewer and now we even have electronic and IP devices that you can control remotely.  All these essential components are sold, serviced and installed by our professional locksmiths.
Door Repair
If you door just doesn't close right, or you need to push and pull it
before you can lock or unlock it then our locksmith can help.  We think of your door as a system – all the parts must work smoothly in order for the door to function as we expect (to keep the cold out in the winter, and to keep burglars out).  If you are fighting with your door everyday call our locksmith.
Furniture Locks
We work on doors everyday.  So it is easy to forget that there are many types of locks and not all of them are on doors.  Filing cabinets, cupboards and desks can all have locks.  Our locksmith can make them all work on one key, make new keys and even install new furniture locks for you.
Mailbox Locks
Canada Post mailboxes are locked with a key that only you have.  When you lose that key we come to your mailbox, open it without a key, and make you a new key.  You can even have the same key for your mailbox and your home – Less keys to carry!
Master Keys
If there is one truth in locksmithing it is this:  Everyone wants a master key!  If you are unfortunate enough to carry a big ring of keys, imagine the difference it would make if you had just one key instead.  That is something that a locksmith can help with.  Watch our One Special Key video.
Security
Locksmiths sell more than just locks.  There are many security products on the market – Charlie Bars for your patio door, Bars for your basement windows, Safes that protect your valuables from burglars or from fire, and electronic systems like Burglar Alarms, Access Control Systems and Video Camera Systems that Spadina Security installs as well as locks.